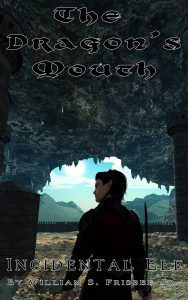 Finally finished.  Originally I had planned on just having one book detailing Aelfsward's journey through the Under Realms but it didn't quite work out that way.  I realized at about the 108,000 word mark that I might have to break it apart and make create another novel.
Had I not stopped, then book #2 would have been 170K words.  Way too much for a typical novel, and this is BEFORE sending it through my editing process which tends to increase the size as I add more description, clarification and streamline the story.
The Novel "Incidental Elf: The Dragon's Mouth" details his journey after the companions help the dark elf Rakala, someone I think will play a key role in later books.  She is something of a badass in her own right.  Ambitious, sassy, lethal, yet caring.  Another broken soul fighting for redemption and a place in the world of Aounuma.
In this novel the companions must traverse the wastes of Lelath, find a way across the Great Rift, traverse the Realms of the Blood Tribes, a nasty group of dark ones and then find a way to bypass the Halls of the Ruskan and escape the Dragon's Mouth to the surface.  Of course the Great Rift is the home of dragons and the Blood Tribes are vassals of the dark lord Vakar, an ally of the demon Brathius.
In book #2, "Incidental Elf:  The Under Realms" the companions first enter the sunless world of endless caverns pursued by one of Vakar's legions and his top lieutenant.  The Shadow Lords of Skane hijack the mission.  New allies and enemies are made and the story ends in the City State of Rodak, ruled by the dark elves.
Still a lot to do on that book with editing, streamlining and clarification.  Originally I stopped with book #2 at 108,000 words but I think I can transfer about 10,000 to book #3 to reduce it a bit. . . but that is before editing.  Should be interesting.
Meanwhile, book #1 "Incidental Elf:  Aelfsward" is being editing by my wonderful wife for grammar and punctuation.  I have sent off a couple proofs to some friends for review.  I plan on recreating and including a map, which means I will likely have to include a map of the under realms as well.  So much to do, so little time.
Special Thanks to David Baker for blasting through book #1 and giving me some recommendations.  Now I just need to review it again, reconsider covers, redo the proof and maybe release it.  Maybe. . . .
For now though I need to let the stories rest and 'percolate' in the back of my mind while I meander off and do something different.  Or maybe I start book #4?  Or maybe I start the final book for the Conglomerate series.  Decisions, decisions.  I also need to edit and publish book #2 "The Darkness"