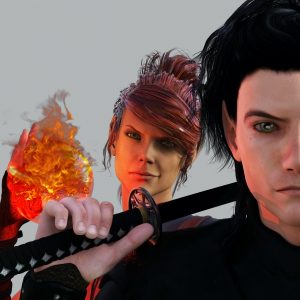 Been a while getting back to it.  Too many things to do.  Never enough time.  Motivation flagging, I have stumbled and fallen.  Time to pick myself back up and stumble on.
I've been a little disheartened of late.  Welcome to life.
So I'm working on Book #3 of the Incidental Elf series, currently named "The Dragon's Mouth".  Still trapped in the under realms Aelfsward and his companions are still trying to find their way out, avoid getting eaten by dragons, killed by dark ones, dark elves, assorted undead and the local critters.  Originally I had planned to finish book #2 with them looking at the open sky again.  Didn't work out that way, too much is happening in those lightless realms.
I did get a chance to reread one of my favorites "Warlock In Spite of Himself" by Christopher Stasheff.  I might resume the rest of the series.  Motivating.
Book #2 of the Conglomerate series is done but needs a review and edit, I also have a pretty good idea where the 3rd book (New Empires) of that series will go.  Right now it is all theoretical though.
Add in several other book projects. . . .I would like to do it full time but I can't quite afford that yet.  C'est la vie.
Well.  Enough rambling.  I should get back to work.