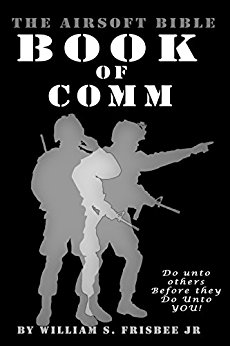 Do unto others before they do unto you!
Combat Communications. Not as glamorous or as intimidating as weapons, but without it you are rabble, easy prey for the team of professional warriors who use and understand the art of battle field communications.
This book covers the art of battle field communication at the small unit tactical level and battlefield level. It lists methods, techniques, tricks, equipment and best practices. It covers radios, hand arm signals, hand signals, challenge and passwords, proper and effective radio communications and more.
For the Airsoft and Paintball warrior this books covers simple to advanced concepts, with tips, tricks and recommendations. If you don't have it your enemy probably will. Can you take that chance?
This book is one of The Airsoft Bible series. Do unto others before they do unto you.
Order Now!
Other MyBooks in "Airsoft Bible"
Disclosure of Material Connection: Some of the links in the page above are "affiliate links." This means if you click on the link and purchase the item, I will receive an affiliate commission. I am disclosing this in accordance with the Federal Trade Commission's
16 CFR, Part 255
: "Guides Concerning the Use of Endorsements and Testimonials in Advertising."